Pacific Avenue and Union Station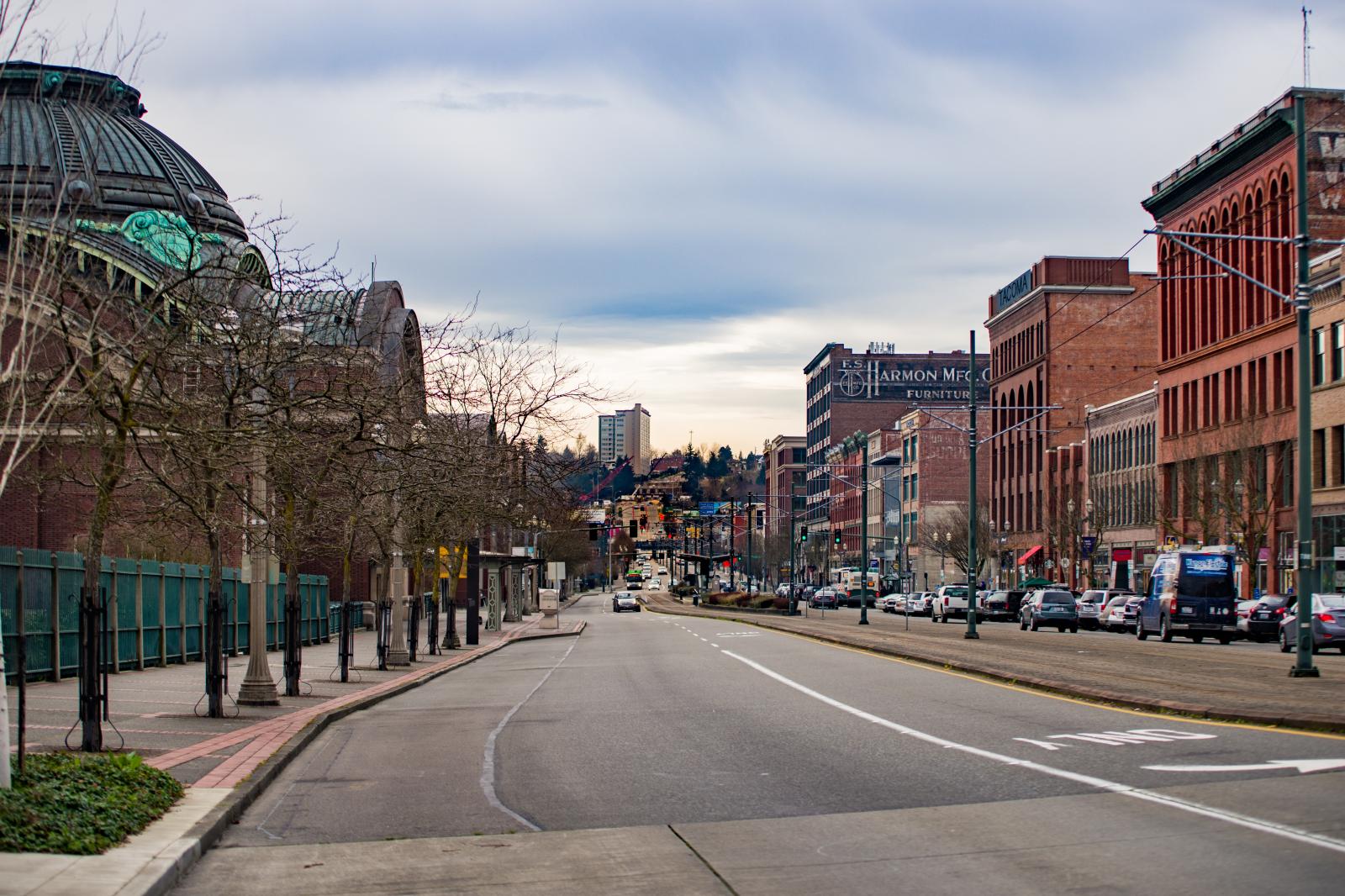 Union Station and Pacific Avenue
Pacific Avenue is Tacoma's main downtown arterial and Union Station is its crowning jewel. But before development sprang up around Pacific Avenue, there were already two "Tacomas" vying for attention.
Platting Tacoma and Pacific Avenue+
As the Northern Pacific Railroad (NPRR) arrived, two communities on the eastern shores of Commencement Bay clamored for the honor of hosting the railroad's terminus, or endpoint.
Intending it to be the railroad terminus, Morton Matthew McCarver named his plat Tacoma City. Anthony Carr — the son of Tacoma's first long-term, non-Native settler, Job Carr — owned land that encompassed a smaller community called Tacoma. When the Northern Pacific chose Commencement Bay as its western terminus, it bypassed both of these existing communities. Instead, it platted a city two miles south of the original settlements. The new city's name? New Tacoma.
New Tacoma hired a series of surveyors, designers, and engineers to lay out the city. They started selling land in 50-foot lots along Pacific Avenue in 1874.
Early development along Pacific Avenue was mostly residential. But as the railroad continued to bring goods and people, a business district quickly sprang up. Eventually, New Tacoma incorporated its rival cities and continued growing. And for many years, Pacific Avenue was the heart of Tacoma. There, immigrant entrepreneurs sold their wares to the public. Pedestrians crammed the sidewalks. Street cars glided over cobblestone streets on their own dedicated tracks.
Union Station+
The Northern Pacific's copper-topped passenger depot wouldn't be built along Pacific Avenue until 1909. Union Station arrived amid a flurry of railroad activity. Three new railroads connected to Tacoma in the early 1900's: The Great Northern (1909), Union Pacific (1910), and the Milwaukee Railroad (1911).
For many years, Union Station was the key transportation hub for the region. But in the mid-1900's, the national highway system replaced railroads as the preferred travel method for most Americans. Ridership dwindled.
In 1984, an Amtrak Station was built in the Dome District. Union Station saw its last passenger train depart the same year. The historic depot sat vacant for several years. Neighboring warehouses were also abandoned for several years until renovation by the University of Washington Tacoma began in the 1990's.